2016 Jeep Expo (Vendor Show)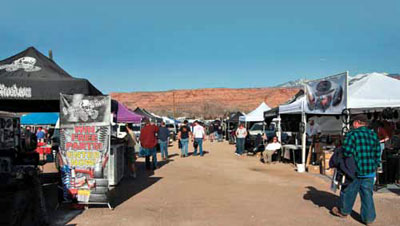 The Easter Jeep Safari gathering of four-wheelers (who might want to buy something) becomes a magnet for people who would like to sell something. Now that the Red Rock 4 Wheelers use a large arena for registration, there is considerable room for displays by manufacturing and sales organizations, both large and small. The demand for this display space has grown to the point that there is a waiting list to get in.
The product displays have been limited to items of interest to "our crowd," but some spaces have been donated to worthy causes that are directly related to Easter Jeep Safari activities. As in recent years, there will be indoor and outdoor displays of 4-wheel-drive products on Thursday, March 24th, and Friday, March 25th.
These vendors have rented their space, and many have contributed products to a giveaway drawing on Friday evening, March 25th. Every registered participant in the Jeep Safari receives a ticket to this giveaway (your ticket will be in your registration packet)
The drawings will follow the traditional Boy Scout barbeque dinner which is expected to begin at 5:30 p.m. In order to make the prize drawing move along quickly, we require that the giveaway prizes be substantial in value, but the vendors have been so generous that the drawings usually go on well into the evening. The drawing requires the ticket holder to be in attendance and the drawings have been popular enough to create real traffic jams near the Arena, so please be patient with parking and traffic control officials.
If you are interested in being a vendor at this unique show contact, Carma at 435-259-1916 or by e-mail to rr4wvending@yahoo.com
Click here to download the Trail Supporter Docs.
Click here to download an Expo Vendor Application.