Responsible Recreation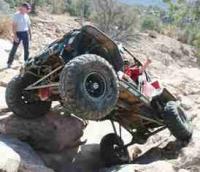 Each year we lose a few more roads/trails. Closed to us forever! It's a horrible thought, but reality! Take a minute and think about what it would mean to you to have your favorite trail closed. One of the best ways to fight this is to practice responsible 4-wheeling. Stay on the trail. Don't be tempted to try a new route or obstacle. Someone will follow your tracks and soon we'll have another road. Go over the bumps, not around them. That's what 4-wheeling is all about. Pack out what you pack in. If you see litter on the trail, pick it up and take it out with you. Most of all, take care of and respect this land that we love to play on.
Responsible 4-Wheeling will make a difference. Please join with the Red Rock 4-Wheelers and practice responsible 4-wheeling every day. Let's show them that we care.

Here are some additional organizations and resources that RR4W supports:

Safety Issues
Be smart and stay safe! Don't let a day of fun turn into tragedy.
Always carry plenty of water, at least one gallon per person per day is recommended.
Be prepared to spend the night if something should happen.
Take extra clothes, food and a blanket.
Always carry a spare tire.
Have plenty of gas and tools.
A cell phone or a CB can be a lifesaver, but they don't always work so, let someone know where you are going and about when you'll be back.
Don't go alone.
Leave the alcohol at home and keep your mind sharp.
This is untamed country! Treat it with respect and you'll be here to enjoy another day.