3-D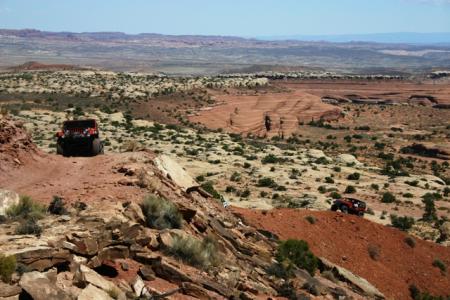 The 3-D Trail tours the vicinity of colorful Hidden Canyon and Brink Spring, northwest of Moab. It visits the canyon bottom and canyon rim, and, finally, a higher overlook of the area (hence the name 3-D). A few of the hills have been known to challenge stock vehicles, but most of the tour is pleasant, scenic, family four-wheeling. Approximate mileages: 59 total, 28 off highway.

Please note: the BLM depiction of the trail on the map below(and on their website) does not show the first 1/3 of the route used at EJS and Labor Day.
Scenery
This canyon country is unlike the Moab Valley with its sheer Wingate Sandstone rimmed cliffs; 3-D visits canyons that are a few hundred feet deep in the smooth, red-and-white layers of Entrada Sandstone, and the slickrock areas are made up of the white layer that caps the Entrada. Vistas are to the north toward the Book Cliffs.
Surface
There are some two-track dirt sections, a little slickrock, a sandy and maybe wet wash bottom, and some rock/dirt mixtures with a few ledges.
Trail Details
Not far from the beginning is "Airport View Hill" where a fewstock vehicles with highway tire pressure may have to try more than once. Hidden Canyon bottom is very sandy but usually not difficult. The climb out of the upper canyon first encounters "The Wall" which looks like a wall to the uniniated but is usually climbed easily by stock vehicles. Just past this is "Mean Hill' which climbs about 200 feet in two steep sections. The first section starts with a shelf followed by a loose red dirt hill. The final climb looks worse than it is because it is on a "hogback" with a dropoff on both sides.
Trail Rating

Trail Notes
Length: 59 total, 28 off highway
Min Tire Size: 33+ inches
Winch: No
Front Locker: No
Rear Locker: No
download the kml google earth track