Hells Revenge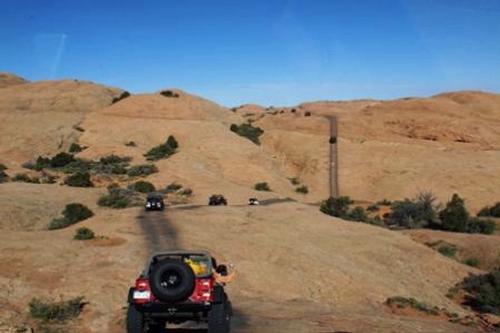 Our premier slickrock trail lies northeast of town between the Sand Flats Road and the river. There are long stretches of slickrock where the 4WD trail has been marked. The most difficult obstacles are out of the stock-vehicle class, but those can be bypassed. There are steep climbs and descents and some edges that are not for the faint of heart. The steep slopes, however, are not technically difficult because of the excellent traction on sandstone. In a few places, the trail crosses the now-famous "Slickrock Bike Trail," a motorcycle and mountain-bike trail. Approximate mileages: 16 total, 12 off highway.
Scenery
The large vistas sweep full circle from the La Sal Mountains through Arches National Park to the cliff rims that overlook Moab Valley. The nearby country is an amazing stretch of bare sandstone with clefts and canyons, including the Colorado River canyon.
Surface
In addition to the slickrock, there are rock ledges, broken rock, sand, and a little blow sand.
Trail Details
The first ascent offers an immediate challenge to first, get onto it, and then to overcome nervousness about the drops on both sides. The major slickrock area includes steep climbs, sharp turns, and a hair raising descent along a steep ridge with little room for error left or right. Names like "Tip Over Challenge" and "Rubble Trouble" offer an insight into challenges offered in the later portions of the trail.
Trail Rating

Trail Notes
Length: 16 total, 12 off highway
Min Tire Size: 35+ inches
Winch: No
Front Locker: Yes
Rear Locker: Yes
download the kml google earth track