Behind the Rocks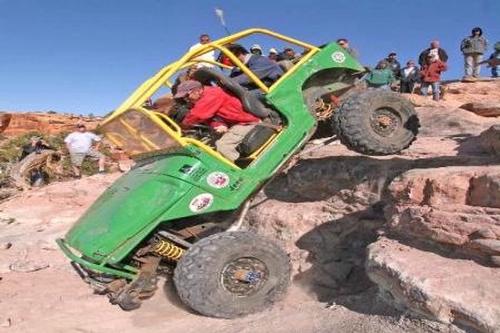 The land "Behind the Rocks" is an elevated area south of Moab bounded roughly by the Moab Rim cliffs and the rim of Kane Springs Canyon, which is still farther south and west. The trail follows the most difficult of the several routes in this region, and gets its renown and its high rating mostly for White Knuckle Hill. Going down the hill is scary enough, but be prepared for a long wait and a good show while some see if they can climb it. It may be the most difficult hill hereabouts that is ascended with any frequency, although the frequency is diminishing as it erodes.
Scenery
The rock layers behind the Moab Rim slope downward, and a virtually impenetrable area of Navajo Sandstone domes and fins is in view most of the time. Canyons, including lovely Hunters Canyon, are cut into older layers. Balcony Arch, Picture Frame Arch, and a distant view of Pritchett Arch may be seen.
Surface
Most of the road is sandy dirt with occasional rock outcrops. To get in and out of the many small canyons is to take a bumpy trip over sandstone ledges.
Trail Details
There is a warm-up hill soon after leaving the highway and numerous minor canyon crossings before reaching High-Dive Canyon. This very steep, rough descent is a short walk upstream from a "high-dive" pouroff into a lovely pool. The climb out of the small canyon can be either via a tricky ledge or the difficult "Upchuck Hill." A few interesting miles farther is White Knuckle Hill, which descends some huge steps from a plateau area to a lower bench.
Trail Rating

Trail Notes
Length: 55 total, 35 off-highway
Min Tire Size: 35+ inches
Winch: No
Front Locker: Yes
Rear Locker: Yes
download the kml google earth track