Top of the World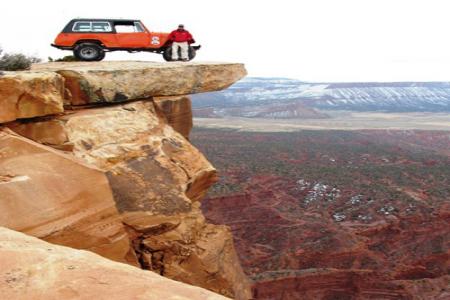 "Top of the World" is a viewpoint on Waring Mesa. It has a spectacular view of Fisher Valley, Onion Creek, and the La Sal Mountains, but this view is only part of a variety of landscapes seen from this trail. Waring Mesa is east of Moab and south of the Dewey Bridge crossing of the Colorado River. Approximate mileages: 74 miles total, 10 miles off highway.

Scenery
The Entrada Sandstone is beautiful wherever it is exposed, and we travel the base of a long stretch of its cliffs near the Colorado and Dolores rivers. The Top of the World viewpoint is a cliff edge above Fisher Valley and Onion Creek with the La Sal Mountains in the southern background, and there are vistas of distant plains and the Book Cliffs to the north. Narrow Onion Creek canyon is different from anything else in the area.
Surface
There is some graded road, but most is broken layered rock. Shelves of varying sizes are encountered along the 4X4 section of the trip, both ascending to the overlook and then descending from it.
Trail Details
The Top of the World viewpoint is worth the trip even without the other good scenery. The trail turns off Utah 128 at the site of the old Dewey Bridge (unfortunately burned up a few years ago). It uses a graded county road to climb a fair portion of the altitude gain necessary to get to the viewpoint, but when it finally departs from this road, the four wheeling fun begins in earnest. But this is not meant to discount the part of the trail that is on the county road, as the colors in the sandstone rocks are spectacular.
The four wheeling section features many sections of loose rock interspersed with several mean shelf type climbs that will test both vehicles and the driver's resolve to reach the viewpoint overlooking Onion Creek. Once there the view is 360 degrees. Often times the winds here can be impressive as well with a flood of air rising up from the valley below.
Trail Rating

Trail Notes
Length: 64 miles of pavement-25 offpavement
Min Tire Size: 35+ inches
Winch: No
Front Locker: Yes
Rear Locker: Yes
download the kml google earth track