Cliffhanger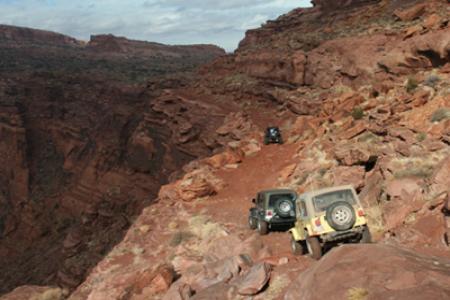 This trail is the only vehicle route onto Amasa Back, a rather high isolated area bounded by Kane Springs Canyon, Hurrah Pass, Jackson Hole, and a big loop of the Colorado River. If Kane Creek is full the crossing can become impassable. The views, however, are unusual and spectacular all the way up the side of Kane Springs Canyon. Farther along, the trail is high above the canyon of the Colorado River. There are some petroglyphs and other evidence of early visitation.

Please note - there is a new gate going into the Cliff Hanger trail. The BLM is aware of this, they issued a grazing permit to the rancher running cattle on the Amasa Back (the mesa Cliff Hanger is on). Please leave the gate either closed or open depending on how you found it.
Scenery
The trail goes to an overlook of the Colorado River that is spetacular. Since it retraces the route on the way back, most of the scenery is on the way back because the struggle to climb up from Kane Creek demands so much attention early in the day. The cliff edge view into Jackson Hole is inspiring, and the afternoon view of the LaSal Mountains and the Behind the Rocks area is one of our best.
Surface
Most of the road surface is rock. It crosses various sandstone layers that create difficult stair step ledges. There is some sand, some dirt amid the rock layers, and some fairly level slickrock.
Trail Details
The trail grabs your attention immediately as it descends a cascade of rock ledges from the Kane Creek road to the creek bottom. The creek crossing can range from dry sand to quicksand to deep water depending upon recent weather. A difficult ledge awaits immediately after the creek crossing. From here on up the trail seems to consist of an endless series of steep, irregular ledges that require good ground clearance and maneuverability. The actual Cliffhanger obstacle is a big ledge on a narrow shelf trail overlooking Jackson Hole. The correct line at this obstacle changes constantly, and also changes for different wheelbases.
This trail ends where it begins, there is no other way off the Amasa Back Mesa. The spur which takes off to the right on the map on the way into the trail is an overlook of the Poison Spider Trail and Highway 279 leading to and ending at the Potash plant, which you will see if you go all the way to the end of the Cliff Hanger trail. Highway 279 ends at the Potash Plant, however if you keep traveling you will begin your journey onto the Shafer Trail, which leads to the White Rim Trail and the Dead Horse Point and Island in The Sky State parks.
Trail Rating

Trail Notes
Length: 20 miles round trip, 12 off pavement
Min Tire Size: 35+ inches
Winch: No
Front Locker: Yes
Rear Locker: Yes
download the kml google earth track