Fins and Things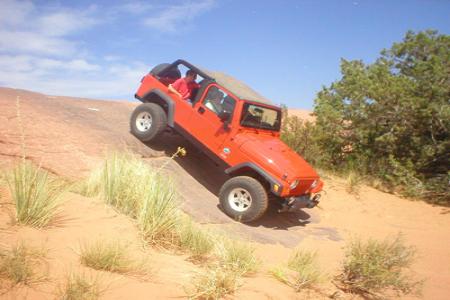 "Fins" are the Navajo Sandstone slickrock formations northeast of Moab, and the "Things" are what remains as the fins erode. The fins started as wind-blown sand dunes some 200 million years ago, they got cemented into sandstone, and they are now going full circle back to sand blowing in the wind. The trail is reached via the Sand Flats Road, and the territory it covers is the rolling country east of the Hell's Revenge trail and between Negro Bill Canyon and North Fork of Mill Creek Canyon. There are a few sudden and steep climbs on and off the slickrock that can be difficult for vehicles with long overhangs. Any tire tread will do on the slickrock, but the clearance added by tall tires is always an advantage, while an aggressive tread helps in the sand. Approximate mileages 25 total, 13 off highway.
Scenery
The views near and far are exceptionally scenic. The Navajo mounds and fins are themselves interesting, and the deep canyon system of Negro Bill adds a special dimension. Farther to the east are the red mesa rims at the base of the snow-covered La Sal Mountains.
Surface
Most of the travel time is on slickrock or very sandy dirt. Some of the climbs are aggravated by a loose sand approach.
Trail Details
This trip is similar to a roller coaster ride that goes on all day. "Frenchies Fin" and Kenny's Climb are about as steep as we can do.
Trail Rating

Trail Notes
Length: 25 total, 13 off highway
Min Tire Size: 33+ inches
Winch: No
Front Locker: No
Rear Locker: No
download the kml google earth track